TUE FEB 13 - Tantra Night! An evening of sensuality, connection & fun with your clothes on!
Posted: January 17, 2018, 08:05 AM
TANTRA NIGHT!
An Interactive evening of Sensuality, Connection, & Fun with your clothes on!
Tue, Feb 13 @ 7:30 PM - 9:30 PM EDT
Full Details: https://tantrany.com/tantra-night/?aff=bpc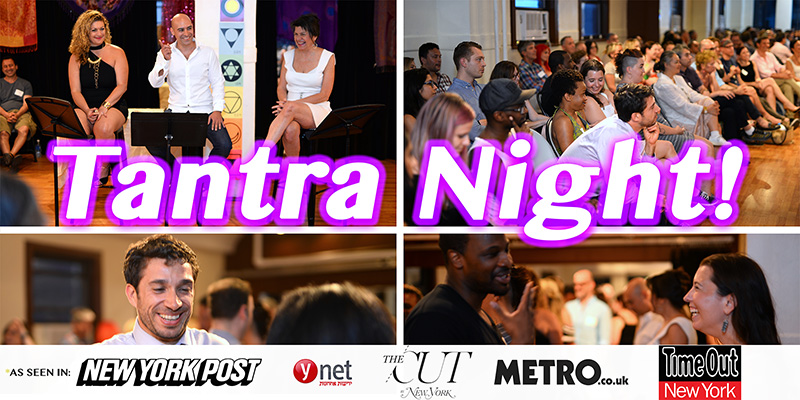 We live in New York City. It's a sexy place, but lots of people are not having great sex, or any sex for that matter! How do we meet compatible partners? How do we become masterful lovers? And how do we find connection and intimacy when we spend most of our time avoiding intimacy... on the train, in crowded elevators, and even at our jobs?
There is a way... and tantrikas have known the secret for thousands of years.
We invite you to a fun, interactive evening of frank conversation about modern relationships, sexuality and how to connect more fully. And through PG-rated experiential exercises, we will explore a more joyful way to meet and relate... all with our clothes on!
We'll focus on what you're most interested in. Some tasty morsels on the menu include:
What is Tantra really, and why is it so often misunderstood?
How to be a better lover.
Dynamics of attraction and how to use Tantra to attract a mate.
Sensuality exercises and practices (for yourself or with a partner).
Q&A - Ask our panel of sexperts any question
Side-effects of attending Tantra Night include: feeling refreshed, invigorated, energized, and very connected. You might even smile at folks on the subway and wonder why everyone looks so grim! :)
What folks are saying about Tantra Night!:
"If you're interested in Tantra, this is a great start to break the ice." -Darin A.
"The instructors did an excellent job of helping us get past the initial awkwardness to a place of vulnerability."
"Cool way to open up and connect in NYC"
"Safe, accessible and fun!" -Hannah L.
"Lauren, Guy, & Karen pack Tantra into delectable, seductive morsels of truth!!!"
"Excellent way to open blockages and pretensions. Useful for work, family, social lives and lovers."
"Wonderful opportunity to connect to community and be vulnerable." -Josh L.
"It is an exciting experience and opportunity to be vulnerable."
"Explore, enjoy, have fun!" -Anabela B.
"A great beginners way to learn more about Tantra and connect with others on a deeper level!"
*While door sales are available, we are often at capacity. Please get tickets in advance to guarantee a spot and speed check-in:
https://tantrany.com/tantra-night/?aff=bpc
Can't make this event?
See a full listing of ALL events here: https://tantrany.com/?aff=bpc
520 Eighth Avenue,
10018 |
https://tantrany.com/tantra-night/?aff=bpc